History of Caroga Lake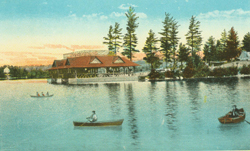 Prior to the Revolutionary War, the harsh area that now comprises the Town of Caroga was sparsely populated. By the early1790's, a sawmill was established, a road was surveyed from Johnstown north to the mill and area lands were patented. Settlers moved into the area and were able to purchase land at 18 cents an acre. In the early 1800's, lumbering and sawmills were the main industries. Wood was carried by road from the mills to Johnstown and on down to the Erie Canal. The Town of Caroga was carved out of existing municipalities in 1842.
The rocky, infertile land was more suited for grazing and fruit trees then to raising grain. Although farms were built, they did not prosper. Hunting and trapping of the plentiful wildlife in the area led to the building of a large tanning industry. Boarding houses and homes for tannery workers were built. Teams transported skins to Gloversville daily. Many residents of the areas surrounding the tannery made their living providing service to the tannery community.
The current Nick Stoner Inn, which overlooks the golf course, was originally a large barn built to house horses and oxen needed by the tanning industry. Sherman's Hotel was built on the shores of Caroga Lake across the road from the current Sherman's Restaurant and Amusement Park. It burned down in 1899. Vrooman's Hotel, still in existence today on Caroga Lake's shore, was originally the home of a local farmer. In the early 1900's, a small amusement area was built adjacent to Vrooman's Hotel and the area started to become a popular recreational destination.
Private cottages, or camps as they are called in the Adirondacks, began to spring up along the lakeshore. More hotels and boarding houses opened. By 1920, there was a large summer community on the Caroga Lakes. An "auto stage" company provided public transportation between Gloversville and Caroga Lake. With the increasing popularity of private cars, roads improved and access to the lakes became easier. The Nick Stoner Golf Course began construction in the 1920's.
100 years after cottage building began, Caroga Lake continues to flourish as a summer community. The municipal golf course and the beautiful lakes and mountains provide bountiful recreation and serenity to residents and visitors. Numerous restaurants and other small businesses provide necessities to the town population. The current Sherman's Amusement Park features a beautifully restored carousel.
Caroga Lake attracts its share of winter visitors also. On weekends, large numbers of cross country skiers and snowmobilers can be seen enjoying the plentiful winter snow, frozen lakes, hilly landscape and groomed trails. Royal Mountain Ski Area attracts downhill enthusiasts. A winter carnival, which includes such "traditional" activities as outhouse, car, and snowmobile races on the lake and snow softball and volleyball, takes place every January. Ice fishing huts dot the lakes.
History buffs will enjoy a visit to the Caroga Historical Museum which features both permanent and special exhibits.