History of Fulton County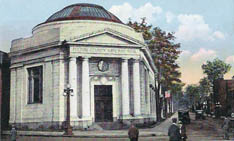 Fulton County is blessed with a rich, inviting history which continues to impact the charm and vitality of the area today.
The county began as a frontier with primitive homesteads and settlements where many sensitive negotiations took place between the English king's representatives and the Native American nation leaders. Thanks to the dynamic personality of Sir William Johnson, the area took its shape as an economically prosperous dwelling place. One of the great shapers of New York colonial history, Sir William's legacy still leaves an impression - he created Tryon County, which later divided into Fulton and Montgomery counties, brought in early settlers and established the glove and leather industries which survived for more than 200 years; and planned and contributed to the public buildings and institutions which are still in active use today - most noteworthy of which is the Fulton County Court House, the oldest working in the state and one of the oldest in the nation.
Other Fulton County natives who made notable accomplishments to the world include Elizabeth Cady Stanton, pioneer woman suffragist; Dr. Mahlon Loomis, a dentist by profession, but the inventor who conducted a series of experiments which resulted in the first wireless telegraph communication system, and New York Governor Enos T. Throop, who served from 1829 to 1833. The county's namesake is Robert Fulton, who improved the steamship invention.
Throughout the county, landmarks and early history architecture remind residents and tourists of Fulton County's colorful history, as the area remains as promising and inviting as it was more than 200 years ago.