Amusement Parks
Sherman's Park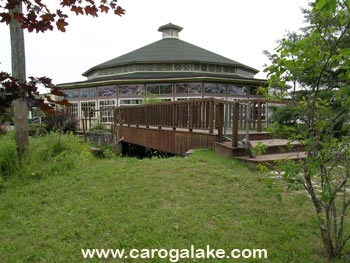 Features a ferris wheel and a restored carousel from the turn of the last century, the park rides are available only to special reserved parties such as weddings. The club on premises is open from time to time to feature bands. Sherman's hosts a fireworks show with outdoor and indoor music every Fourth of July.
Directions:
RT-29A across the road from the Caroga Lake Post Office.
The Great Escape & Splashwater Kingdom

Route 9
PO Box 511
Lake George, NY 12845
518-668-9650
Take the kids and spend the day at this combination amusement park and water extravaganza that features more than 125 rides, like the the "Nightmare at Crack Axle Canyon," an indoor roller coaster that soars, plunges, twists and turns through complete darkness, plus live entertainment and eateries.
Directions:
From the Caroga Lake Post Office across the road from Sherman's Park.
Head northwest on RT-10/RT-29A toward E Shore Road West Caroga .4 miles, Turn right at CR-112 4.7 miles, Continue on CR-125 7.4 miles, Continue on Benson Rd 1.2 miles 5.9, Turn right at RT-30 3.3, Turn left at Bridge St 0.7 miles, Turn left at N Main St 144 feet, Turn right at Water St 0.4 miles, Turn right at CR-149 0.8 miles, Continue on CR-113 0.7 miles, Slight left at CR-113/Northville-Edinburg Rd 0.8 miles, Continue on CR-4 1.6 miles, Turn left at CR-4/N Shore Rd 15.4 miles, Slight left to stay on CR-4/N Shore Rd Continue to follow CR-4 5.7 miles, Turn left at Main St 0.3 miles, Turn right at Mill St 0.1 miles, Turn left at Lake Ave/RT-9N Continue to follow RT-9N 10 miles, Turn right at US-9 .25 miles, turn right onto Six Flags Drive
http://www.sixflags.com/greatEscape/index.aspx